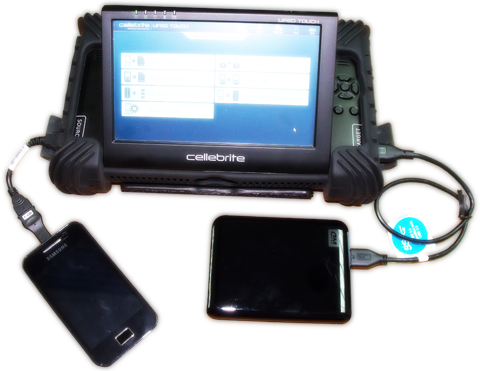 Mobile Forensics-Orion Forensics Thailand
Mobile Forensics
Orion Forensics  are proud to announce that they have now expanded their mobile forensic capabilities with the purchase of the Cellebrite UFED Touch Ultimate and UFED CHINEX add-on.
"Cellebrite's new generation mobile forensic solution, UFED Touch Ultimate, enables the most technologically advanced extraction, decoding, analysis and reporting of mobile data. It performs physical, logical, file system and password extraction of all data (even if deleted) from the widest range of devices including legacy and feature phones, smartphones, portable GPS devices, tablets and phones manufactured with Chinese chipsets".
"Cellebrite's UFED CHINEX is a solution for the physical extraction and decoding of evidentiary data and passwords from phones manufactured with Chinese chipsets – MTK and Spreadtrum".
Capability
Support for BlackBerry, iOS, Android, Nokia, Symbian, Microsoft Mobile, Palm, phones manufactured with Chinese chipsets and more

Complete extraction, decoding and analysis of invaluable data such as Call history, SMS messages, contacts, calendar, email, chat, media files, geo tags, passwords, location information (WiFi, cell tower and navigation applications) GPS fixes etc.

Exclusive physical extraction and advanced decoding from BlackBerry® devices running OS 4, 5, 6 and 7. Real-time decryption for selected devices.

Supports password protected, jail-broken, non-jail-broken, encrypted and non-encrypted iOS devices.

Bypasses PIN/Pattern/Passcode lock from selected Android devices running any version.

TomTom® trip-log decryption and extraction from other portable GPS devices.

Proprietary technology and boot loaders ensure forensically sound extracted data.

Fully portable so can be used onsite even if there is no power available.

Up to 10 times faster than previous model.
Results
Phonebook

Call Logs

Calendar

SMS

MMS

ESN/IMEI

Pictures

Videos

Ringtones

Audio/Music

Memory Card

Internal SIM
Mobile Phone Forensics Investigation Service 
Related Posts